EW's Top 25 Worst Sequels
By
John DeNardo
| Thursday, March 23rd, 2006 at 12:01 am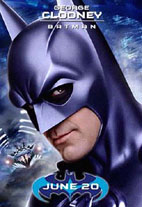 Entertainment Weekly has identified 25 of the Worst Movie Sequels Ever Made. There are more than a few sci-fi, fantasy and horror movies that made the list.
Staying Alive (1983)
CaddyShack II (1988)
Leprechaun: Back 2 Tha' Hood (2003)
Blues Brothers 2000 (1998)
Batman & Robin (1997)
Weekend At Bernie's II (1993)
The Fly II (1989)
Friday the 13th Part VIII: Jason Takes Manhattan (1989)
Speed 2: Cruise Control (1997)
Jaws: The Revenge (1987)
Dirty Dancing: Havana Nights (2004)
Star Wars: Episode I – The Phantom Menace (1999)
The Sting II (1983)
Conan the Destroyer (1984)
Dumb and Dumberer: When Harry Met Lloyd (2003)
Ocean's Twelve (2004)
Star Trek V: The Final Frontier (1989)
Battle for the Planet of the Apes (1973)
Revenge of the Nerds II: nerds in paradise (1987)
The Godfather Part III (1990)
Legally Blonde 2: red, white & blonde (2003)
Teen Wolf Too (1987)
Porky's II: The Next Day (1983)
The Next Karate Kid (1994)
The Matrix Reloaded (2003)
Filed under: Movies
Like this post? Subscribe to my RSS feed and get loads more!
---