Free SF, Fantasy and Horror Fiction for 3/11/2014
Got a hot Free Fiction Tip? Tell me here
Want these delicious links emailed to you once a week? Sign up for the Free SF/F/H Fiction Newsletter
What's Special About Today's Free Fiction?
For some reason, I've published my first (and you may hope, my last) anti-story: "The Hunt for the Infamous Roy G. Biv".
A frightload of horror from Short-Story.me, with stories from Martin Flemming, Ryan Bridendolph, and Jeremy Szal.
In case you've been missing them, there are some YouTube readings of horror stories from Chilling Tales for Dark Nights, including "The Tangi Bridge" by K.M. Zafari.
Written
Written – Flash
Written – Serialized
Audio
Audio – Radio Dramas
Audio – Serialized
Video
Free eBooks – Science Fiction
AMP Messenger by Stephen Arseneault
For a thousand years Man has fled from an enemy that is bent on his annihilation. The only real defense is his home, a great station called the Grid with a faster than light drive that is unmatched for speed. Don is a Messenger not a hero. But ordinary men sometimes have a way of rising to a challenge. War is coming and fate will place Don and his ship, a Blevin class Defender, smack in the middle of the fight. Is Man ready for the 43rd Milgari war? Don Grange doesn't think so!
[Military Science Fiction Novel – First of Series – Amazon | B&N | Kobo | Smashwords]
Anastomosis (The Hysteresis Chain) by David Kutai Weiss
Saturn looms through the haze above Titan's menacing surface. The moon of Saturn is home to Alpha India. But the fuel that powers the colony is mysteriously disappearing, and the engineer responsible for maintaining the colony's life-support is forced to leave the confines of the colony to confront his past and their future on the bleak moon of Saturn.
[Military Science Fiction Novel – First of Series – Amazon | B&N | Kobo | Smashwords]
Model Species – The Apothic Man 1 by Katherine & Eric Nabity
Alcander, an old man with a shattered sense of self, has a murderous plan to replace the life he cannot remember. Investigating his crimes are a middling apothynom, Inspector Paulos Gaent and a religious objector, Clerk Teria Bellaphaerenous. At cross-purposes, a private detective, Laros Nero, is hired by an anonymous client to discover the identity of the murderer for reasons other than justice.
[Science Fantasy Novel – First of Series – Amazon | Smashwords]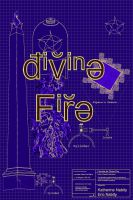 @Smashwords: Divine Fire – The Apothic Man 2 by Katherine & Eric Nabity
Divine Fire is raining down on the prosperous men of Florey. The Ecclesians say that it is the retribution of Agnos. Some few might wonder if it's an ancient evil set loose. Neltiar Silva and Marie Lemieux intend to find out the truth. Then they will mete out some retribution of their own.
[Science Fantasy Novel – Second of Series – Smashwords]
@Smashwords: The Emperor's Finest (The Emperor's Finest #1) by Melissa Cuevas
War is the field for the Empire's young officers to make a name for themselves, their chance to shine. When war calls again, Commander Niel Morrison, the scion of one of the Empire's greatest naval families, jumps at the opportunity. For Lieutenant Arien Noble, it is her last chance to save her quickly sinking marine career. It seems a perfect relationship to give them exactly what they need.
[Space Opera Novel – First of Series – Smashwords]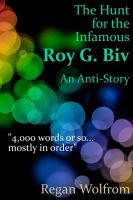 @Author's Site: "The Hunt for the Infamous Roy G. Biv: An Anti-Story" by Regan Wolfrom
[Science Fiction Farce Short Story – EPUB, MOBI, PDF – Author's Site | Smashwords]
"My Name is Mark Nine" by David Kutai Weiss
My name is Mark Nine. I woke up in Tokyo, but I don't know how I got here. I think I'm being followed.
[Technothriller Short Story – Amazon | B&N | Kobo | Smashwords]
Mythical (Stone Soldiers #1) by C.E. Martin
Colonel Mark Kenslir is the last of the Cold War supersoldiers–and he's just come back from the dead. Sent to Arizona to hunt a heart-devouring shapeshifter, Colonel Kenslir and his team of supernatural-smashing soldiers thought it was just another mission. But instead of stopping the monster's murderous rampage, Kenslir and his stone soldiers became the latest victims in a trail of carnage blazed across the southwest. Suffering from partial amnesia, with no weapons and no support, Kenslir must rely on two reluctant teens to help him remember his past, complete his final mission and avenge his men.
[Science Fiction Adventure Novel – First of Series – Amazon | Kobo | Smashwords]
Resurrection Planet by Lucas Cole
Ronald Crisp, ex-Marine and now full-time mercenary, leads a small elite team to Sybaris, a wasteland world where hideous murders and even cannibalism have been reported by terrified research scientists and miners. Winds and sand threaten to shear the flesh from men's bones. Indigenous wildlife and plants arise from nowhere and return beneath the surface in a matter of minutes. But it is the human–or once human–nightmarish army feasting on the settlers that will chill the heart of a calculating and self-serving anti-hero like Crisp. Especially when he discovers that he knows the evil only too well…and finally learns why Sybaris is called the Resurrection Planet.
[Science Fiction Adventure / Post-Apocalyptic Novel – Amazon]
Sky Hunter (Targon Tales 1) by Chris Reher
Air Command pilot Nova Whiteside is assigned to a remote outpost to guard the construction of a new tethered orbiter, Skyranch Twelve, against rebel sabotage. The difference between the well-ordered Union air fields and this dusty garrison is made painfully clear when she runs afoul a brutal commander of ground troops. Aboard the elegant new space station not all runs according to protocol and she soon suspects that more than farming is being done up there. When she uncovers the treacherous and illicit schemes taking place, it seems that local riots are the least of their troubles.
[Space Opera Novel – First of Series – Amazon | B&N | Kobo | Smashwords]
Tales from the SFR Brigade by Edited by JC Cassels
Experience love and adventure among the stars in this digital anthology of eight Science Fiction Romance stories.
[Science Fiction Romance Anthology – Amazon | B&N | Kobo | Smashwords]
Free eBooks – Fantasy
"Angela of Troy" by SJB Gilmour
Angelina Troy was a woman of legend. Seasoned veterans feared her sword and gods themselves lusted after her body, just as demons in the pits of the darkest hells loathed her and her necromantic power. Nothing, it seemed, could bring her down. Then she met the one man who neither feared her nor desired her. It was that encounter which was the beginning of her ultimate undoing and her terrible fall from grace…
[Sword & Sorcery Short Story – Amazon]
Iron Bloom (Legend of the Iron Flower Book One) by Billy Wong
The tale of a mighty warrior torn between the power of the sword and her longing for a peaceful life.
[Sword & Sorcery Novel – First of Series – Amazon | B&N | Kobo | Smashwords]
Light in the Gloaming (The Gloaming Book One) by J.B. Simmons
"The Gloaming was worse than the grave…"
Or so Tryst believed when he banished the former prince to this secret and brutal exile. Now Tryst sits on the throne of Valemidas. He feasts with nobles and prepares an army to conquer the world. But things are never as stable as they seem. Old loyalties remain. The people of Valemidas groan under Tryst's heavy yoke and his network of spies. While the seeds of rebellion are planted, Tryst's own family is divided. His sister has ambitions exceeding her brother's, and their half-sister wants vengeance for the disappeared prince she loved. No one escapes the Gloaming, but perhaps the fallen prince is different. What would happen if a man emerged from a place worse than the grave?
[Epic Fantasy Novel – First of Series – Amazon]
Thinblade (Sovereign of the Seven Isles: Book One) by David A. Wells
When second son Alexander Valentine loses his brother to an assassin's arrow, he discovers that his family protects an ancient secret and reluctantly finds himself at the center of the final battle of a war that was supposed to have ended two thousand years ago.
[Sword & Sorcery Novel – First of Series – Amazon | B&N | Kobo | Smashwords]
Transcripts from the Other Side by David Kutai Weiss
Today is Bill's lucky day: he's dead.
[Contemporary Fantasy / Comedy Story – Amazon | B&N | Kobo | Smashwords]
Free eBooks – Fantasy – Paranormal and Romance
Masters' Mysterium: Wisconsin Dells by R. R. Reynolds
The isolated northern Wisconsin town of Creekside is closing in around Trudy Masters. With nothing holding her there but a crap job at a dive diner, one friend who isn't even the same species, and a big secret to keep, that isn't enough–she wants out. But while Trudy seeks escape, others want in, including backwoods hunters searching for a mysterious creature, a young man with healing powers, and a father who abandoned her before birth.
[Paranormal Fantasy Novel – First of Series – Amazon]
Mythos (The Descendants, #1) by Vrinda Pendred
Just before Stephen died, he left a note: Don't let them get my children.
Itzel Loveguard has a secret. The stories she can't seem to stop writing…sometimes they come true. And now she thinks she may have killed her own father.
[Paranormal Fantasy Novel – First of Series – Amazon | B&N | Kobo | Smashwords]
Free eBooks – Horror
Dead Roots by Brian Geoffrey Wood
In the small town of Orchard, West Virginia, a terrifying presence has taken root. When Thomas Bell, an analyst for the Department of Paranormal Study and Defense, arrives to track down a missing girl, he comes face to face with a horror from his past. Something will have to give, and soon–and Tom is afraid it's going to be him.
[Horror Novel – Amazon]